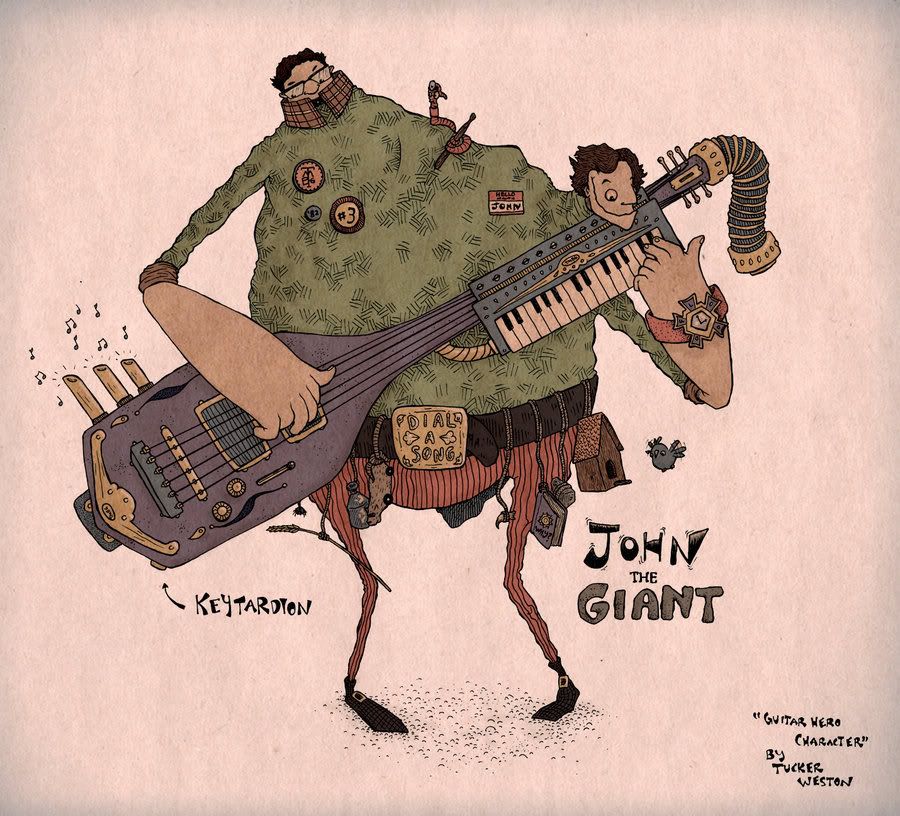 "John The Giant" by Papposilenos
Sorry for the lack of updates over the last week or so. It turns out that November is one crazy-assed month, both at work and not at work, and regularly-scheduled posting has fallen by the wayside.
On the plus side, tonight I'm going to go see They Might Be Giants at the Venue in Vancouver. I'm pretty excited: Not only have I never seen TMBG here in my hometown, but it's also a Flood Show. For those of you not in the know vis a vis the Johns, Flood was their third full-length album, released in 1990. It's also their most well-known, featuring as it does the songs Istanbul (Not Constantinople), Birdhouse In Your Soul, Particle Man and Dead, amongst others. So when they say it's a Flood Show, that means they'll be playing the entire album from start to finish... Along with songs from their new album Join Us, presumably, since a show comprised only of Flood tracks will run about 45 minutes at the outset.
They'll be playing with Jonathan Coulton, whom you may be slightly more familiar with given his contributions to both Portal soundtracks ("Still Alive" and "Want You Gone"). I've never seen Coulton live, so I'm not entirely sure what to expect... but I do know that his new album Artificial Heart (produced by John Flansburgh of TMBG and featuring 66.66666667% of TMBG's non-John band, namely guitarist Dan Miller and drummer Marty Beller) is phenomenal and so I have high hopes.
I have a long history with TMBG. I bought their second album, Lincoln, in tape form in the late '80s at a dingy second-hand record store in Victoria, when I was only eleven. I had never heard of them before. Up until that point in my life my musical tastes were largely limited to Weird Al and Ray Stevens, and when I asked the guy if he knew of anyone else I might liked based on that criteria, he recommended TMBG to me. I'd like to think that he was a fan himself and saw an opportunity to make a young convert, because the alternative was that (like a lot of people) he considered TMBG a kiddie band, or even worse, a novelty act. To be fair, it's always been difficult to pigeonhole They Might Be Giants, and I would imagine this was the case moreso in 1988 when they were only two records in than today, after they've made a name for themselves with consistently strange, subversive, avant-garde rock.
At any rate, I ended up listening to Lincoln once and being totally weirded out by it before shoving it in a drawer for the next two years to gather dust. Then, in 1991, like so many kids of my generation, I received my formal introduction to TMBG by way of Tiny Toon Adventures, namely the music video episode which featured Istanbul and Particle Man from the recently-released Flood, and I was hooked. Maybe it was the fact that I was thirteen and not eleven, and therefore somewhat more open to the idea of artsy weirdness and unconventional ideas -- or maybe it was just the fact that stylistically, Flood was a more accessible album than Lincoln. Either way, I taped the Tiny Toons episode and watched it incessantly; I went back to Lincoln with new ears; I picked up Flood on cassette and wore it out with repeated listens.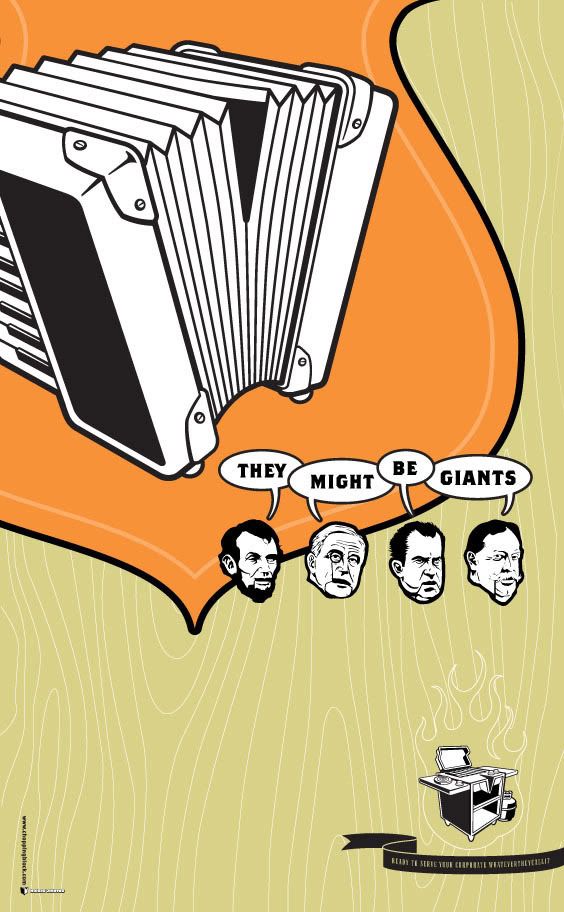 TMBG Gig Poster by The Chopping Block
They Might Be Giants became my favorite band, and ignited a decades-long fixation with record store scrounging and tape-trading. No one else knew who they were. Discovering their Dial-A-Song hotline meant that I was calling up a New York City area code at least once a week, baffling my parents when they received the monthly phone bill. By the time I was fifteen, I had amassed every album, EP and compilation appearance I could get my hands on. Each one of my hard-won discoveries - like the amateurishly-printed Live!!! New York City 10/14/1994 album or the Why Does The Sun Shine? EP - was a minor coup. By the time I was eighteen and Factory Showroom came out, I had started to branch out to other bands and artists: Soul Coughing, The Pixies, Moxy Früvous, Ben Folds Five, Man or Astroman?, The Afghan Whigs, The Aquabats, Tom Waits, Nick Cave. I got a job in a record store and suddenly I could get imports, hard-to-find video collections, and even the occasional out-of-print EP, ordering them directly from the distributor. The release of Then: The Early Years, which compiled the first two TMBG albums (The Pink Album and Lincoln), their b-sides album Miscellaneous T, and generously packed in a full album's worth of unreleased Dial-A-Song-era rarities, coincided with the first week of my record store job, and I remember unpacking the cardboard box they were shipped in and being fully convinced that I had lucked into the greatest job on earth, bar none.
That particular record store job lasted until late '99, and although the subsequent years would see me working for a handful of others, the Internet and Napster and the idea that you could digitize a song into an MP3 and send it to someone else without a middle-man pretty much killed the whole concept of record stores. It took a while to really take hold, but 1999 was the beginning of the end. Tellingly, TMBG did something that few other established bands would have dared to attempt at the time and released Long Tall Weekend, an MP3-only album, which marked the first time I ever paid for music on the Internet. It was also the only time I ever actually burned an MP3 album to CD, printing up the included PDF cover and all.
For a band that, after thirty years, still has a fairly low visibility in mainstream cultural consciousness, TMBG have managed to carve out a niche for themselves, and chances are you've heard their work, even if you didn't know it. The most obvious example of this is the theme song for Malcolm In The Middle, but they also re-recorded the Daily Show theme when Jon Stewart took over from Craig Kilborn, they did a new version of the Mickey Mouse Clubhouse theme song, they composed and performed the theme song for The Oblongs, they wrote The Other Father Song for Henry Selick's Coraline animated film, and so on. They've won Grammys for their kids albums, they've toured like crazy, and they've embraced their Internet-savvy fanbase with aplomb. They're very astute guys, John and John; they know who pays the bills, and they have tried to create a dialogue directly with their fans, whether through video contests, website freebies (like the TMBG Clock Radio, a kind of latter-day Dial-A-Song) or just supporting plain old old-school tape-trading.
So, yeah. That's why I'm excited about seeing They Might Be Giants tonight.