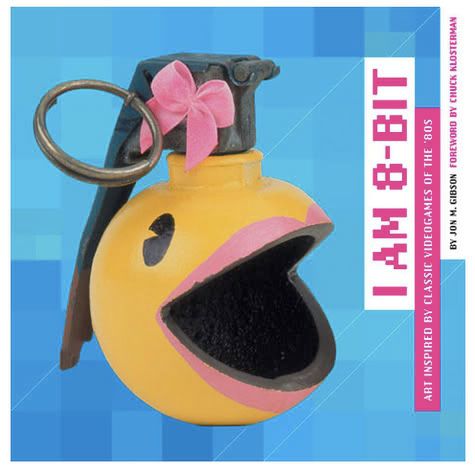 Back in April, I wrote about the
I AM 8-BIT group exhibit
at
Gallery Nineteen Eighty-Eight
(who, incidentally, with their recent Disney-themed "Remixing the Magic" group exhibit - expect an update on that sometime this week - along with I AM 8-BIT, are rapidly becoming one of my favorite L.A. pop art gallery.)
Today I finally received my copy of
"I AM 8-BIT: Art Inspired By Classic Videogames of the 80s"
from Amazon, and... wow. Considering the remarkably low price ($15 plus shipping,) I was not expecting it to be even half as lovely as it actually is. Every one of its 156 pages reproduces a glossy, full-colour print that was featured in the show, and although it doesn't provide complete coverage - there are a few works from the exhibit that are nowhere to be found here, and a few that I suspect were actually done after the show, specifically for inclusion in the book - it is certainly a comprehensive look at 8-bit videogame-inspired art.
There are art books and there are art books. This is the sort of book you actually want on your coffee table: anyone under the age of 30 is going to freak right out when they see it. Forget "Historic Barns of Minnesota" - Do yourself a favour and order this book right now. Or wait for the second volume to come out (no guarantees, of course, but they've had at least two seperate I AM 8-BIT shows, so Gallery 1988 has no shortage of material) and order them together. You won't regret it.